Home
Alumni Testimonials
How our services bring about success

M. Madhan Prasad
IT, 2012 Batch
Yoganandh & Ram LLP
My Bachelor's Degree at Excel Engineering College in Information Technology consisted of many project-based evaluation and faculty connects. The mentors at Excel Engineering College helped us enhance our academic and interpersonal skills. The regular interaction with the Placement Team also encouraged me to excel in my interview and communicative skills that are required for our future use.
Samuel Prasanna Raja
IT, 2011 Batch
Lowes Services India Pvt Ltd.
My four years at Excel were great and are still a memory to cherish for a lifetime. It was full of learning and grooming oneself. It gave me an opportunity to meet different kind of people and I learnt quite many things. I am thankful to all the members of the faculty, mentors and the entire EGI as a whole, not to leave out the Placement Cell. Life at Excel was on the whole a great experience and a lifetime memory to cherish.

Excel Engineering College offers a unique combination of learning & self-development. I got all the support & guidance from my Departmental Faculty & Placement Officers. Comprehensive Training Programmes offered by the Career Development Cell of Excel Engineering College helped me to secure my Placement.  I am very thankful to the faculty members of Placement & Training Department as they had been very much supportive, helpful and also doing a great job by arranging excellent placement drives by MNCs & the students derive a good corporate exposure.

Divya V
IT, 2017 Batch
Angelstar Enterprises
Excel Engineering College proved to be a pool of opportunities for me. It not only provided us with various platforms to showcase our abilities and skills, but also helped us to learn all the soft skills that are highly required. We got training on interview skills, communication skills, life skills, and effective time management, and many more. I wholeheartedly thank the Training & Placement Cell for its constant support.

Vignesh V
IT, 2014 Batch
HCL Technologies
I got placed in Wipro, and it is because of the efforts put in by the faculty of the Training and Placement cell, which always makes sure that students get placed in the best company in the market. Excel Engineering College provides great exposure to students by organizing different activities which are very much helpful for every student to decide upon their future field of work.
Gogul Raj S
IT, 2015 Batch
Dentsu Aegis Network Chennai
My sincere appreciation & gratitude to the Training & Placement Department and all the staff members of Excel Engineering College for their efforts in imparting quality technical and aptitude training. I am very grateful to them for effectively and sincerely helping me to grab the first ever opportunity that came into my life.

Athul Madhav
IT, 2015 Batch
Eastern Corporate
Excel Engineering College is a place where you find an amalgamation of learning, fun, culture, lore, literature and many such life-enriching activities. I am thankful to the Training & Placement Cell for providing a launchpad to charter the trajectory of my career by honing my soft skills and providing the opportunity to showcase them
Umamaheswari
ECE, 2016 Batch
Excel engineering college is my very own home where I found out who I am.   Each and every faculty has a part in my success. They groomed my personality and behavioral knowledge which has supported me to shine. Best memories were gathered and the best people were befriended in this place. Overall, Excel has been the key for my excellence.
Reubon Felix
ECE, 2019 Batch
It was my immense luck and fortune to be the part of   Excel Engineering College where I could grow. The best thing about this Institution is the cross-culture interaction between students from various parts of the nation. The entire faculty as well as the Department leaves no stone unturned to shape our future. My four years at this campus have been a wonderful experience of learning with prolific exposure to the outside world. Overall, it was a great experience and a lifetime memory to be cherished

Sathya Priya
ECE, 2019 Batch
I studied in Excel Engineering College to do my B.E. (ECE) and passed out in 2019. I learnt many things while being in the ECE Department. It was here I learnt about microprocessor, embedded systems and so many other things. All these turned out to be very useful for my campus interview and for being placed happily and profitably.
Sankar J.
ECE, 2014 Batch
My experience in the Excel Engineering College was terrific. I found the course Electronics and communication Engineering very challenging but rewarding. I had many professors in the college who inspired me profoundly and who helped me greatly. I use the knowledge and skills I acquired in Excel Engineering College every day. Excel institute has always supported its students to achieve their potential. Excel has helped me in gaining the relevant knowledge through which I was able to secure a job. Excel helped me in conquering my fears and improving my soft skills after graduating in 2014. As an Alumnus, I am grateful that I am still a part of Excel. Finally, I would like to welcome the recent graduates to the Alumni family.

S. A. YUVARAJ
ECE, 2012 Batch
Acupuncture and Varma Therapist
My experience of doing my UG in the 2008-12 Batch in Excel Engineering College from the Department of Electronics and Communication Engineering led me to a path of self discovery as well as developing my skills in various sectors. Platforms of acquiring knowledge from the college days are very important to survey our life in various sectors – not only in the engineering field. The faculty members and friends were very supportive of everything during my college days and also after the completion. Being a student is a of the golden time in our life and I was lucky to find the best place for that. Thank you everyone for everything.

Saravana kumar V.
CSE, 2011 Batch
LEAD Engineer at McAfee, Bangalore
It was indeed a great pleasure to have studied in a reputed institution like Excel. I have learnt about computer and about software from the scratch during my college days, and I feel grateful to the management & professors for all the opportunities provided me that led to my successful career now. Also, Excel was my second home and had many happy moments which can be cherished lifelong.

Aravind K.S.
CSE, 2011 Batch
Associate Manager - Business Systems Analysis
Excel Engineering College helped me to mould my career, identify the professional gateways and guided me to learn beyond a Bachelor's degree. This institution is the right place for students to improve upon their aptitudes with the help of skilled mentors and an excellent infrastructure.

S. Karthikeyan
CSE, 2016 Batch
I am glad to provide you my feedback about the college. My overall experience has been amazing, and the college has an amazing infrastructure. Your college has provided me with a number of opportunities to grow and explore my skills. I have always found a positive and healthy environment and the teachers were highly supportive. Most of my doubts were cleared after the classes got over. I am highly thankful to you for providing me with an opportunity to be a part of your college. It has added a number of values to my life.
Jemiya Rechal John
CSE, 2017 Batch
Amazon Development Center
I am Jemiya Rechal John, and I am a passed-out student of B.E. CSE of your reputed Engineering College under Anna University.  I am delighted to provide my feedback about the Excel Engineering College. My overall experience has been amazing, and the college has an amazing infrastructure. The college has provided me with a number of opportunities to grow and explore my skills. I have always found a positive and healthy environment and the teachers were highly supportive. I am highly thankful for providing me with an opportunity to be a part of Excel Engineering College. It has added a number of life skills to my life.

Jithinraj S. S.
CSE, 2011 Batch
Systems & Operations Manager, Equitas Small Finance Bank
Excel Engineering College & Excel institutions stand unique in their educational system. Apart from the best of faculty, we had quality education, a beautiful campus, a real-world experience and amazing friends. We feel happy about the students' quality, retention and commitment. My four years as an Excelian have bought an added value to my life and memory to cherish for a lifetime. I thank the Management and faculty for putting in all the efforts to groom us and make us professionals.


Mrs. Nithya P
Civil, 2017 Batch
Deputy manager – ICICI Bank
I had my best and most precious time in Excel Engineering College's Civil Department. I had great staff members with excellent experience. I thank each and every one of them for having helped me to reach this position.
Mohammed Shijas S
CIVIL, 2015 Batch
Team Leader Track & Structure Maintenance Dept. Saudi Arabian Railways (SAR)
My experience at Excel Engineering College in the Department of Civil Engineering has been academically enriching. With well-versed faculty members, and with well-established infrastructure and laboratories, we had all the equipment required for our academic pursuits. The memories of our stay in both the classrooms and in the hostel are what I would like to cherish for a lifetime.
Shamim S
Civil, 2018 Batch
Assistant Engineer, Public Works Department (Buildings)
I had the most memorable time doing my Civil at EEC. The Civil faculty was most helpful and guided me at every step in honing my core competencies. I thank all those who guided me through this wonderful experience. To the students, I would like to narrate a few lines "Those who keep their minds open to new concepts – those whose cups are always empty – will always move to higher levels of achievement and fulfillment". It is my gut-level feeling that students' grasp of engineering is a head start on college goals and creates more concrete ideas about future career. I wish that this institution goes on doing great stuff and help students achieve their dreams.

S. Mohan Raj
Civil, 2015 Batch
Senior Site Engineer, RRR Constructions
During my Engineering studies, Excel College excited me with its infrastructure and environment. My SSLC was from the State Board and I was not able to understand engineering subjects; but the faculty handling the various subjects showed a lot of patience and I could catch up with the others in the 2nd year. The laboratory equipment and materials were available for all subjects and they were of higher quality compared to other colleges. The Civil Department had the latest equipment. I have a lot of happy memories about Excel College and I thank all who guided and motivated me to be what I am now.

Arjun J P
Civil, 2019 Batch
Sha Builders & Developers (P)Ltd
I was in the 2015-19 Civil Batch at Excel Engineering College. The decision to study Civil Engineering at Excel Engineering College was a turning point of my life. The Civil faculty was always helpful and it guided me for becoming a successful engineer and building a career for me.
Awards
Our Achievements & Accolades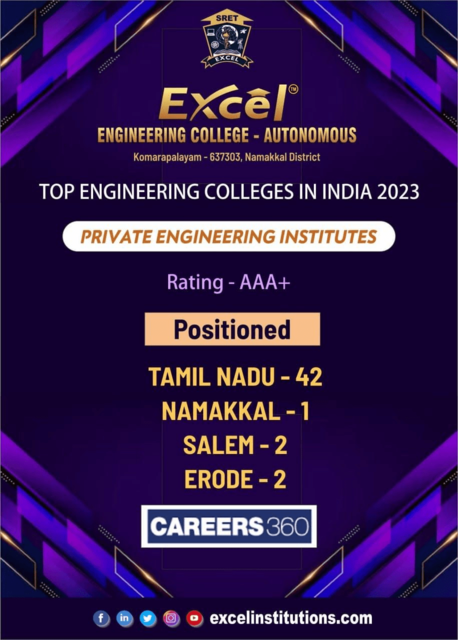 Top Engineering Colleges in India 2023

Education World
Grand Jury India Higher Education Ranking 2023-24

Education World India Higher Education Ranking Awards 2023-24
Emerging Engineering Colleges 2023

Best Private Engineering Colleges 2023 Ranking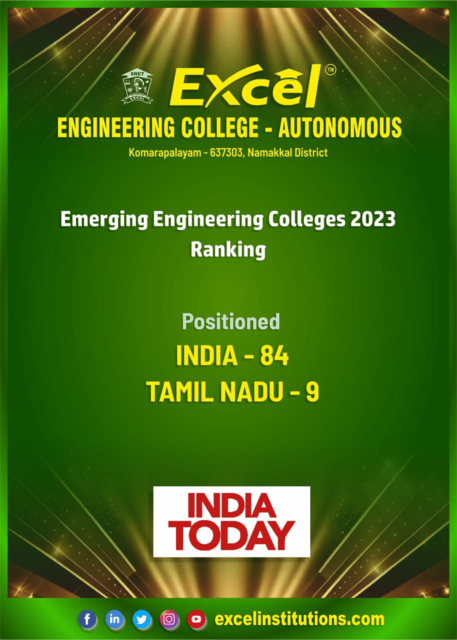 Emerging Engineering Colleges 2023 Ranking
OBE Rankings 2023
Sustainable Institutions of India
The Week - HANSA SURVEY 2023
Most Promising & Prominent Engineering & Technology college of the Year 2022
IIC Star Rating 3.5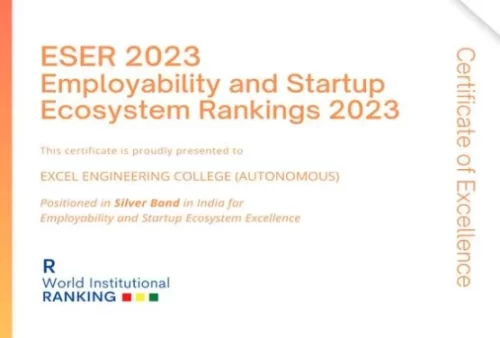 Employability and Startup Ecosystem Excellence(Silver Band)
Research Excellence(Gold Band)
Academic Excellence(Gold Band)
ISTE Best Student Award 2021
Construction Excellence Awards 2021

ISTE Best Student Award 2019

Sustainable Institute Industry Partnership Award
Best Placement and career guidance cell
World Level Hacker Rank E-Learning Platform
lakhs sq.ft built-up area
with Wi-Fi connectivity.
Alumini Passed out
students from our
Institutions
Capacity aesthetic Air
Conditioned Convention
Center
Bed Hospital with
Siddha, Homeopathy, &
Naturopathy Doctors
Indoor Games like Badminton, Table Tennis, Handball, Wrestling and Multi Gyms are attached to the Hostels. Beauty Saloons and stationery...
Read More
Hearty Congratulations to our Vice Chairman Sir, Dr. N. Mathan Karthick, Excel Group Institutions, on the well-deserved recognition of the ENTERPRISING EDUPRENEUR AWARD 2023 from ICT Academy! Your innovative and ambitious efforts in the field of Higher Education have truly created a benchmark.
September 11, 2023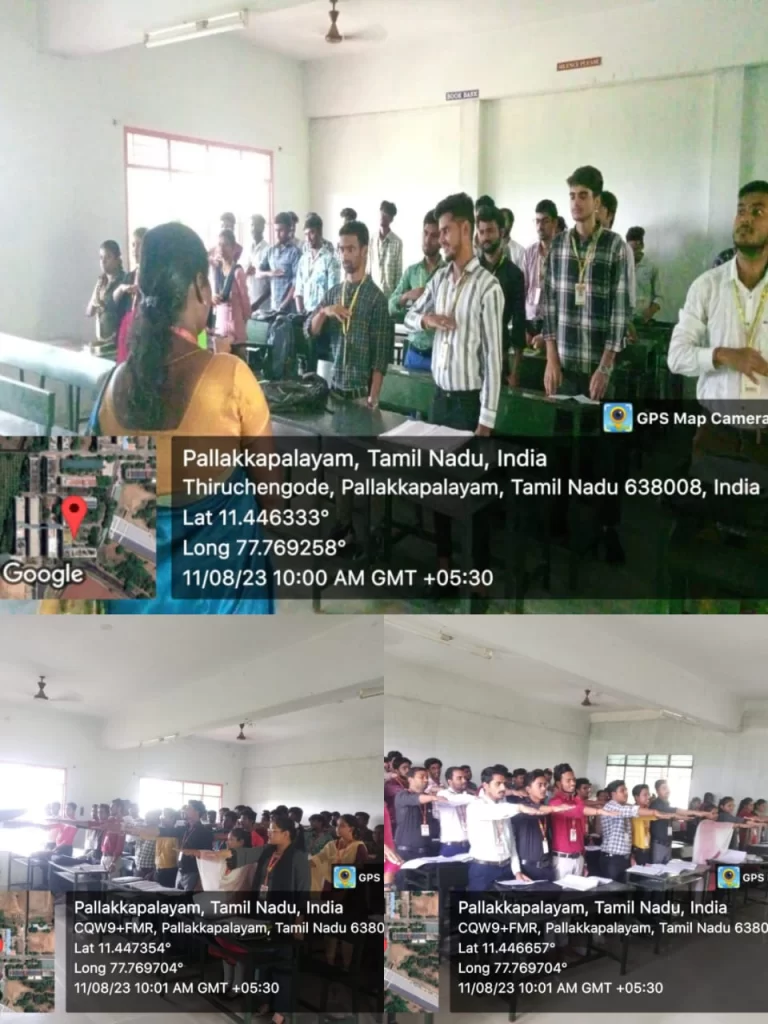 Excel Engineering college students of all the Departments taking "Pledge against drug abuse" 11.08.2023.
September 6, 2023
Department of Information Technology Third Year and final year students attended the Workshop on Introduction and Advanced to Intel one API toolkit essentials on Dev cloud in IT LAB on 07.08.2023.
September 6, 2023