Home
Exceptional Academic care designed for real life
Exceptional Academic care designed for real life
Exceptional Academic care designed for real life
Our Vision and Mission
Vision
To become a preeminent institute by offering excellent pharmaceutical education and research in order to enhance community healthcare and technical aspects of the industry
Mission
To create academic excellence at the institute by providing education in pharmaceutical sciences through high-quality infrastructure and technology
To prepare pharmacy students to meet the needs of industrial research as well as social needs by using student-centered teaching and learning processes
To prepare pharmacists to be ethical people and responsible members of society
At Excel, you'll discover bold ideas about
what a Institutions can be.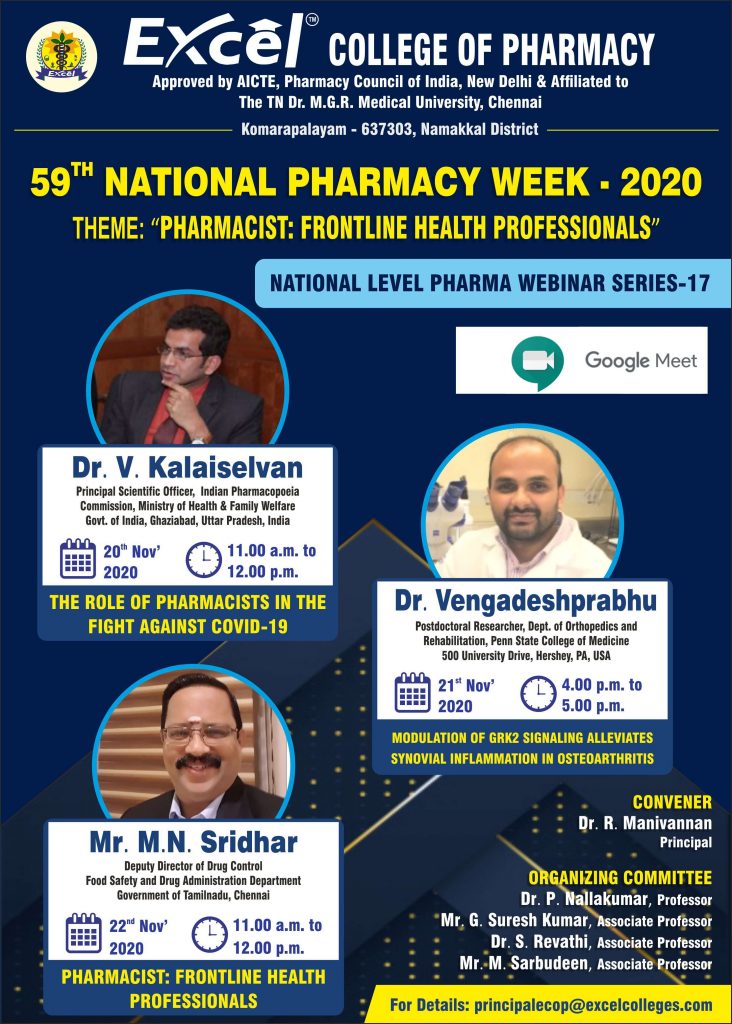 59th National Pharmacy Week - 2020 "Theme – Pharmacist: Frontline Health Professionals" National Level Webinar Series- 17 From 20.11.2020 To 22.11.2020
November 20, 2020
Excel College of Pharmacy Organized Webinar on "Pharmacist Role in Transforming Global Health Post COVID 19" on 25th September 2020.
September 25, 2020
National Level Pharma Webinar series-15 "Practice School And Elective Subjects – An Overview" on 09th November 2020.
September 9, 2020