Biochemistry
Biochemistry encompass the study of life, and will suit anyone with an interest in living organisms. They are highly specialised subject, allowing for in-depth study of the science behind all living beings. "What Biochemistry deals?"is a common question posed by students. The answer, simply put, is "Just about everything". Biochemistry is a Chemistry of Life. Biochemistry is the study of chemical reactions in living organisms and aims to understand the structure and behaviour of biomolecules – these are the compounds that make up most of a living cell, and through reactions enable it to grow, use energy, and reproduce. . It concerned with composition and chemical behavior of living organisms.
Some modules you may study are Biomolecules, Cellular Biochemistry, Immunology, Endocrinology, Physiology, Clinical Biochemistry, Nutrition & Metabolism, Enzymes, Pharmaceutical Biochemistry, Molecular Biology, Plant biochemistry, Analytical Biochemistry, Environmental Biochemistry, Microbial Biochemistry.
Studying biochemistry will enable you get involved in ground-breaking research to enhance the human lifestyle and help to overcome or mitigate problems the world is facing.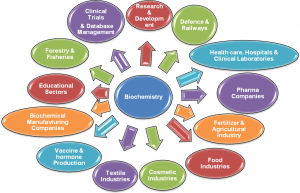 The Department of Biochemistry in Excel Institute of Health Science  equip the students and provide an avenue for students so as to contribute substantially to the future prosperity of our community. We arrange Periodical Guest Lectures by scientists, Research Scholoars and eminent Persons from all over India and Industrial visits to our students to expose them latest trends in industry. The department contributes significantly to the curriculum in medical education and is dedicated to fostering imaginative and talented students who will continue contributing to human well-being in the fundamental efforts of elucidating and understanding disease mechanisms.
Career Prospects are
Research Associate/ Assistant
Clinical Biochemist
Nutritional Biochemist
Biomedical laboratory Technologist
Scientific Laboratory Technologist
Quality Controller
Clinical Trial Executive
Molecular biochemist
Medical coder
Medical Transcriptionist
Technical Write
"You Dream, We will Design & Deploy"
Gallery